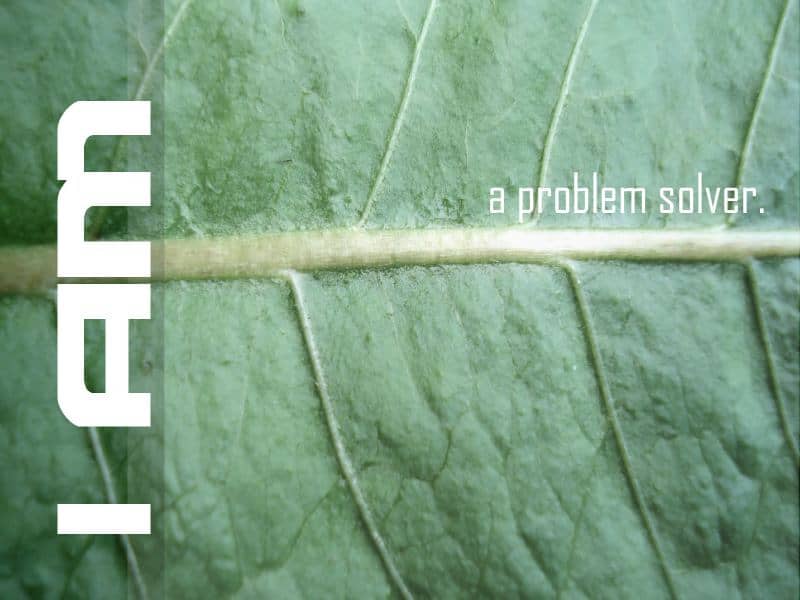 Affirmations are powerful, positive sentences that can change your mindset. Don't focus on challenges and lack, but on healthy self-esteem and unshakeable self-confidence.
Read the affirmation below aloud. Loud enough for your mind to hear your voice saying the words and notice how you feel. Feeling better? Repeat this affirmation at least twice a day – morning, and night – for 21 to 28 days.
Comment below that you've started this process. Add entries in your journal each day as to how you're feeling. Note the positive changes you've made, and celebrate them! Send me a note using the contact form and let me know how you're doing!
---
I minimize problems by magnifying the solutions.
I intentionally set my eyes and my mindset to see the positive in every situation. I welcome the chance to be a problem-solver. Challenges serve only one purpose: to help me grow.
Looking at my daily walk, my life, and my challenges through positive eyes empowers me to embrace them. I set my intention to act with confidence as a problem-solver.
Trials and challenges are like waves crashing on the shore – if I focus on them, I'll miss the bigger picture. I can intentionally focus instead on the peace that can rest in the vast ocean. Keeping my focus on the things that truly matter helps me to overcome the turbulence that life sometimes brings.
I focus on solutions because I am a problem-solver. Giving all my attention to challenges and difficulties does NOT serve me well. Instead, I focus my energy on finding solutions. My energy goes toward figuring out ways to make things work for me and my life.
I am solution-driven – it keeps me from becoming (or staying) stuck.
I am constantly moving forward in life because I press on despite discouragement. When I encounter a difficulty, my quick mind and positive spirit kick into gear. I automatically begin thinking of ways to make the situation better.
I refuse to waste time sulking about situations that don't go my way or complaining about the challenges I face. Pity parties keep me from being a problem-solver instead of finding solutions and do not help the situation.
I am a problem-solver – I concentrate on finding solutions and answers.
I can find answers in many ways:
Seeking wisdom from others – asking around to see what others have done and how they overcame their challenges
Learning from the experiences of others – taking inspiration from their solutions so that I can create solutions for myself
Today and every day, I choose to look past my situation. I instead focus on the peace that comes after the storm. I would rather be a problem-solver. I search for and find solutions rather than challenges so I can empower myself and keep my life moving forward.