There is an adage (short statement expressing a general truth) that says
How you do anything is how you do everything.
What does that mean? It means that your habits – those actions you repeat over and over again – are the surest indicator of outcomes, be they negative or positive. Repeated negative habits produce negative results, and repeated positive habits produce positive results – simple, right?
The generally accepted truth about habits is they take 21 to 28 days to develop. Doing something over and over again for 21 – 28 days brings about a new "groove" in your brain – a mindset shift that MUST happen in order for the new habit to be integrated, along with its behavior, into our everyday lives.
Little by little, day by day, week by week, what once was foreign and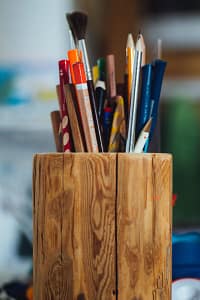 unusual becomes a positive part of your routine and helps you make the changes you desire.
Use the list of tips below to work on your journaling for the next calendar month. No matter when you are reading this, plan ahead to take a full month to practice journaling every day and keep these tips in your mind to help you focus and adopt this new, positive habit.
Here are 21 tips to develop your journaling habit:
Don't rush it – give it the time and space it requires.
Have great tools – good pens, great paper, a dedicated space, etc.
Be present when you journal – focus during your journaling time.
Be consistent with the time you journal – even if you start with only 5 or 10 minutes, keep doing that for the 21 – 28 days.
Commit to the practice of journaling – don't let anything or anyone distract you from setting aside this time for yourself.
Get inspiration from nature – journal near a window, or sit on your porch or balcony (weather permitting).
Share your enthusiasm for journaling with others – friends, family or associates can be a source of inspiration and motivation.
Find a community that loves to journal – online options are growing fast.
Find (or create) a favorite place to journal – a comfy chair with good lighting can be the start you need.
Enjoy your favorite drink when you journal – relaxing or energizing – your choice!
Use a special seat for journaling – be comfortable and well-supported.
Set aside time with your child to journal together – make it a bonding activity for the two of you.
Eliminate outside distractions – give yourself the gift of silence, or of a supportive environment with no distractions.
Diffuse essential oils while you journal – scent can be an important part of setting a supportive environment.
Burn scented candles when you journal – take advantage of the relaxing atmosphere a flame can provide, along with beautiful fragrances.
Leave your journal out so you can be reminded to engage with it – keep it close by so it's always within reach.
Schedule journaling time into your calendar – set an electronic reminder on your smartphone or computer.
Always have a supply of journals and tools on hand – when you find something that works, get a spare so you never have to go without.
Treat yourself to a reward for reaching a goal you journaled – plan your rewards as you plan your transformation.
Forgive yourself when you don't journal – think about why you didn't journal, and find ways to prevent distractions in the future.
Place no limits on yourself about journaling. Just do it – don't wait for a perfect day, or hour – get started right where you are, with what you have!
As with all things, you have to really want to develop the habit in order to achieve success in creating it. Ask yourself why you want to journal and how you believe your life will be enriched for having done it. Discover what motivates you to keep this positive promise to yourself and make that motivation part of your routine as your journal your way to success.
The first time you try something new you, and the activity, will likely feel a little awkward. It will take longer than you think it ought to and may feel unnatural – and that's perfectly okay!
Sticking to the routine creates the road to mastery – which means journaling will become an effortless, rewarding activity and a pleasant habit, and the results will come easier and easier.
Commit to your journaling and you will see that the effort is easy and the outcomes well worth the commitment and the time you put into it.