Has your life started to feel less satisfying lately? Has the Coronavirus pandemic caused you to doubt the direction and relevance of your efforts to live your life the way you want to?
Do you have a nagging feeling that you're meant to be doing something else, but you're not quite sure what that "something else" is? There are plenty of books around that can help to inspire you and help you find out what's missing from your life.
If you genuinely want to live a more authentic life and become the best possible you, you should check out some of the top books to help you find and fulfill your purpose.
Bestselling author Elizabeth Gilbert provides what's been described as a creative manifesto – a declaration of intention. She believes that to reach your personal potential you have to show up and push through the weeds and shadows of self-doubt. Stay focused, find joy in what you're doing and keep moving forward, and you will be rewarded by unearthing the "strange jewels" of inspiration and magic that she believes are in all of us.
Remember – baby steps forward are still steps forward, and Big Magic is possible as you take those steps forward.
An unusual format for a "self-help" book, Breakfast with Buddha is a novel instead of a "how-to" or a group of testimonies and examples. The novel explores the human condition and life choices as it follows an unlikely couple of men who undertake a journey across modern America.
The change in format might just spark new avenues of thought, and if you relate to the main characters and their journey, there is potentially a lot to be gained by reading this novel.
Written by a psychiatrist and his comedian daughter F*ck Feelings encourages you to look past your immediate – perhaps habitual – responses to life's problems to see the bigger picture.
Especially recommended if you struggle with negative thought patterns. Don't let the unconventional title put you off – check it out and see if it just might help you shake up the "ordinary" and give you inspiration for a new path.
Taking the famous Biblical story as his central metaphor and saying that by rights David shouldn't have won, Malcolm Gladwell helps you to "find the giant within."
This book will help you understand that nothing is too big for you to handle and that once you realize that "giant" isn't invincible, your strength, perseverance, and skill can win the day.
Malcolm Gladwell's wisdom is well-known, and this book will be no exception for those who are fans of his style and his writing.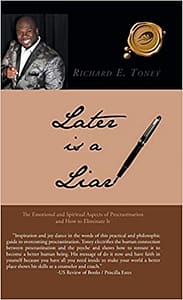 If procrastination – putting things off until another time – is your problem, Dr. Richard E Toney's book will help you see that "later" actually means "never" and that all you have is Now.
Procrastination is the enemy of productivity, and putting things off – kicking the can down the road, so to speak, doesn't get you closer to your goals. It also won't help you get out of difficult or uncomfortable situations.
Dr. Toney helps his readers set boundaries, only take on what they can handle, and encourages them to let go of the bad habit of procrastinating.

Creator of megahit television shows Grey's Anatomy and Scandal, Shonda Rhimes shares how making the decision to say "Yes" over the course of an intentional and life-changing year has shifted her entire paradigm.
It helped her grow from being an introvert who suffered from panic attacks before media interviews, to be able to confidently and assertively claim her place in the spotlight. Instead of living in fear and anxiety, she made a vow to say "Yes" to everything that scared her. What might YOU be able to accomplish if you committed to a Year of Yes?
---
In the comment section below, tell me what you're currently reading, and what book you'd like to read next. Is it one of the ones mentioned above, or something totally different? I'm very much a book lover, and I'm reading several books at a time – I choose them based on my business, my interests, and my classwork for my MDiv, in addition to reading for pleasure: